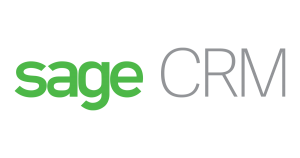 What is Sage CRM?
Sage CRM is a software for customer relationship management for small and medium-size business (SMB).
Win more business with Sage CRM.
Sage CRM provides you with end-to-end visibility of your business and a single view of your customer, so you can win more business and keep your customers happy.
At ReadySpace, together with our partner, we created a simple way to deploy and run Sage CRM easier. Running on high-performance servers and high-availability cluster, that is the secret to every of our customer's business digital strategy success. Connect multiple cloud servers together at our various geographical locations allows you to extend to localised customers or users with speed and reliability.
How Sage CRM can help you
A customer-centric view
Connect your organization to a single view of your customers by adding Sage CRM to your Sage business management solution.
Accelerated sales velocity
Direct your sales efforts toward the most profitable, most winnable deals and make the most of cross-selling and upselling opportunities with Sage CRM.
Targeted marketing
Create and execute targeted campaigns using detailed information drawn from across your business. Track your best lead sources and maximize your marketing budget by targeting prospects that are more likely to purchase.
Create loyal customers
Centralize customer data in one place so your service teams can provide the best experience for your customers. Provide your customers with a self-service website so they can get answers to their questions and track or update their own account information without making a phone call.
Fully customizable
Sage CRM is simple and easy to customize. It can be adapted to suit your unique business needs by creating automated workflows to manage any area of your business, not just customer relationships.
Whats new from Sage CRM?
[catlist search="sage crm" numberposts=5 date=yes]
Accelerate your business with a single, customer-centric view across your entire company
Sage CRM helps small and medium sized businesses extend the power of their Sage business management solution with an award-winning, on-premises integrated customer relationship management (CRM) solution. When you connect Sage CRM to a Sage business management solution, you can be up and running quickly. Most importantly, it is affordable and customizable so you can tailor it to your business needs. Enable your sales team to access critical customer information anytime, anywhere with the Sage CRM mobile app for iOS and Android.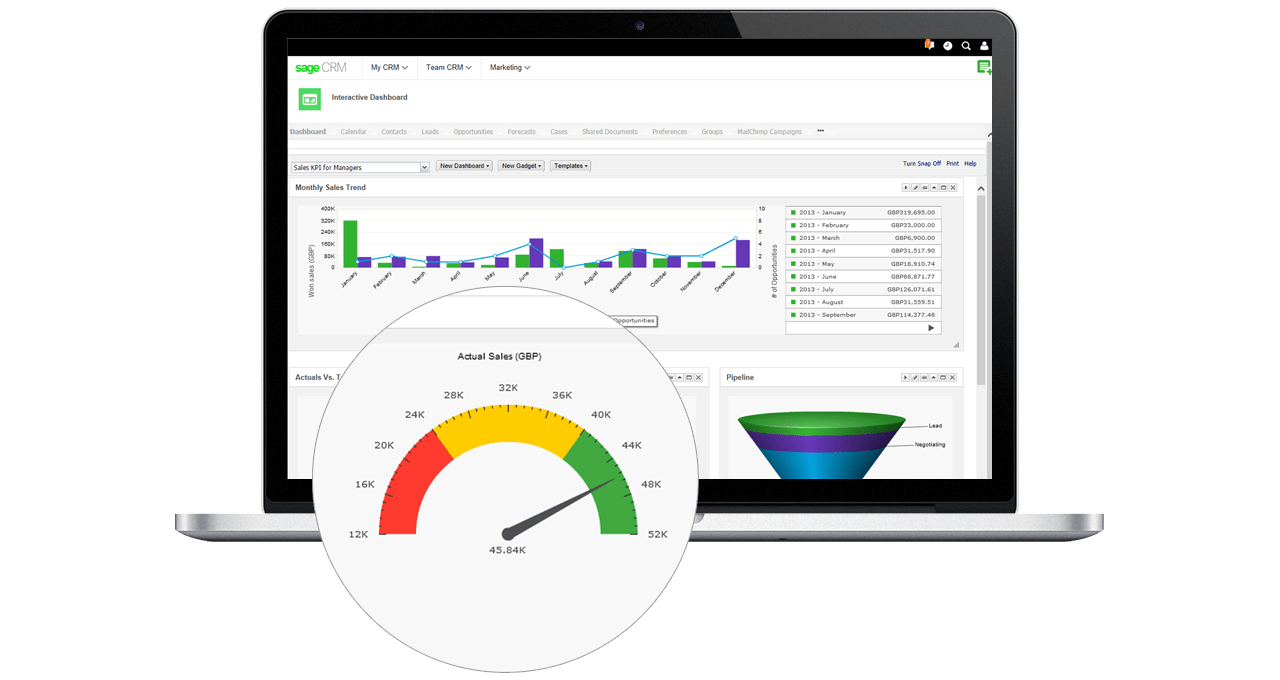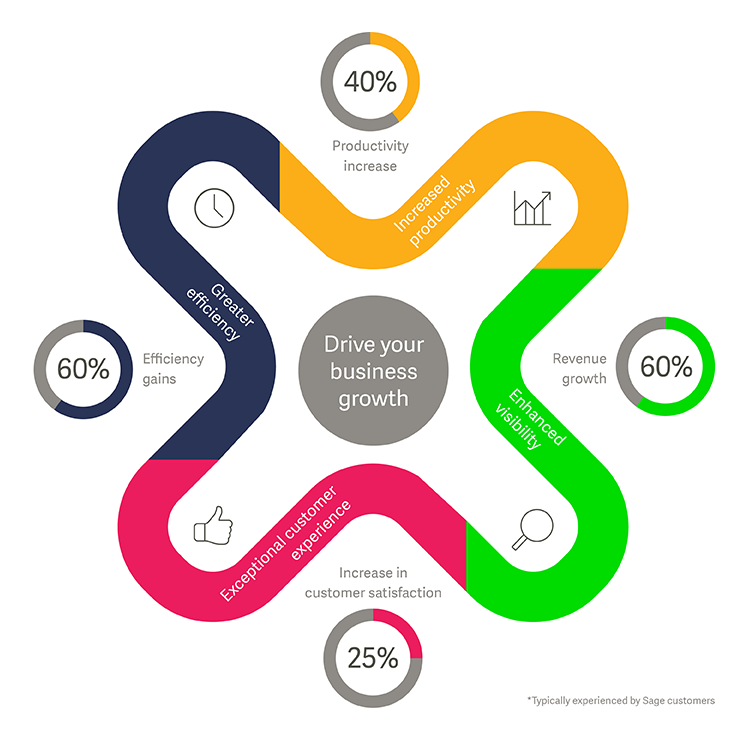 Could you benefit from more revenue and new customers?
Silly question, right? Every company strives to grow their revenue but it's not as easy as it sounds. Let Sage help you. Answer 5 questions and we will send you a personalized business assessment report with tips on how you can unlock revenue opportunities. If you already know where you need help, then learn how Sage solutions can support you in solving your challenges today.

Sales
Empower your sales teams with more opportunities
With a more effective sales team, you will increase productivity and revenue in your business faster.
Your sales team will work on the right leads, at the right time, you will be able to see what stage your sales deals are at, and you and your management team will make business decisions based on real-time information.
Using our solution, Sage customers increased the productivity of their sales teams by up to 40%.
We'll empower you to track the performance of sales across your business, work on the go using your mobile and gain the confidence you need to make better business decisions today.

Put your business on the path to exceptional growth
It's no secret that today's businesses want to put their business on the path to growth.
By taking a systematic approach to sales, you will:
Track the performance of your sales activities in real-time using our out-of-the-box sales reports.
Generate accurate forecasts about the performance of your business with our powerful sales dashboards.
Prepare for important sales meetings by accessing important customer data on the go using our mobile apps for Android, iPhone and Windows 8.
Make more informed decisions faster using our powerful and easy-to-understand sales reports.
See what stage sales deals are at in the pipeline and then make accurate forecasts to manage key opportunities.
Marketing
Get the most from your marketing spend
Are your marketing campaigns delivering the right results? More targeted campaigns ensure a higher return on your investment faster. Our marketing solution enables you to:
Plan marketing campaigns with precision, track the results of these campaigns and run campaign reports within minutes.
Manage a marketing campaign across multiple channels.
Track new leads and sales opportunities.
Use powerful campaign reports to improve your next campaign.

Service
Your customers are the lifeblood of your business
Nurturing customers and providing them with an excellent customer experience will improve your retention rate and drive growth. As a growing business that puts customers first, you will:
Retain existing customers.
Generate repeat business.
Cross-sell and up-sell your products and services to existing customers.
Use valuable information about existing customers to find new ones.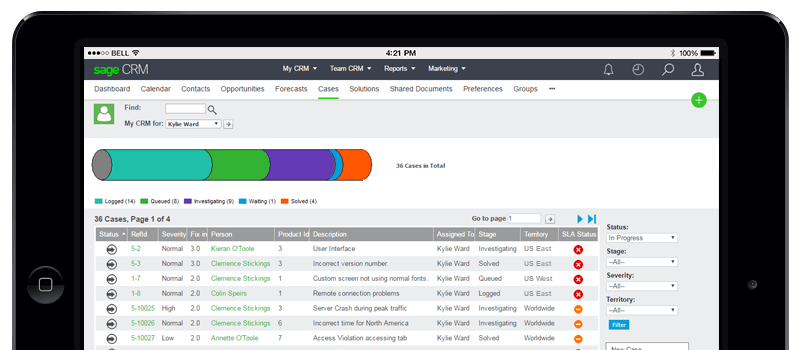 What exceptional customer service means for you
Sage customers have improved customer satisfaction levels by as much as 25%. Our affordable solution gives businesses of all sizes the best value for money. We'll empower you to:
Automate and manage the progress of customer service cases resolving cases faster.
Save time by storing information in a central knowledgebase.
Report on critical customer service metrics quickly and easily.
Have more meaningful conversations with you customers.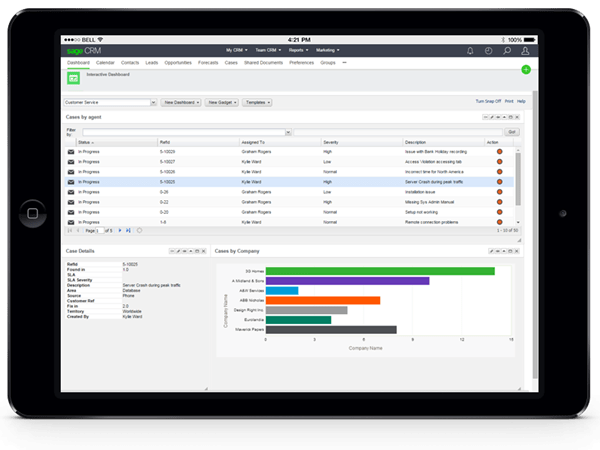 Arrange a demo or free trial now
Demo
trial